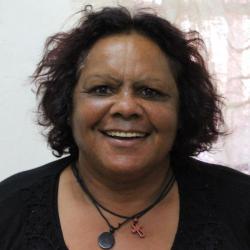 About the artist
Roxanne was born at Hermannsburg in 1968. Her father was a Southern Aranda man from Horseshoe Bend (south of Alice Springs on the Finke River). Her mother was from the Pareroultja family. Roxanne was largely brought up by her grandparents going to the mission outstation school at 8 Mile. From there she attended school at Yirara College (an aboriginal boarding school in Alice Springs) and Alice Springs High School.
Roxanne began painting in acrylics on canvas in 1986. Her paintings largely depict the stories she was taught by her grandparents, are beautifully presented, well balanced and utilise the brown and ochre colours that are so common in this desert landscape.  Roxanne has only one child of her own but has fostered many other children ensuring that they receive a good education by sending them to Alice Springs for their secondary education as well as understanding and valuing their aboriginal heritage.
She is a local government councillor representing Hermannsburg on the McDonnell Regional Council and is in fact the current Council President. 
Discover other artists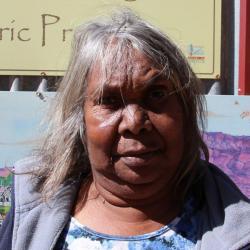 Gloria Pannka was born at Hermannsburg in 1953. She is a granddaughter of Albert Namatjira and daughter of Claude Pannka who was one of the first generation of Hermannsburg water colour artists.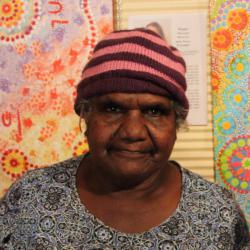 Betty was born at Hermannsburg (Ntaria) in 1949. Her father came from Haasts Bluff, north west of Hermannsburg. Her mother was Martha Namatjira, one of Albert Namatjira's daughters.