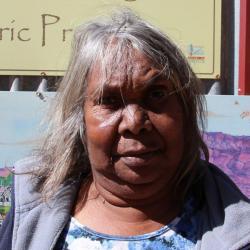 About the artist
Gloria Pannka was born at Hermannsburg in 1953. She is a granddaughter of Albert Namatjira and daughter of Claude Pannka who was one of the first generation of Hermannsburg water colour artists. Her schooling took place at the Mission School at Hermannsburg. Gloria was taught by her father from the age of 12, and remembers annoying him and her uncles for art paper, paints and brushes. 
Her father's work features bold colours and sharply defined edges, while Gloria's is softer using subtle colours such as mauves, blues and greens and the limited use of browns, golds and reds with the merging of one shade into another. Her work can be found in many galleries around Australia including the Parliament House Collection in Canberra. She lives at her Hamilton Downs Outstation where she does most of her painting.
Often Gloria paints beautiful landscapes on boomerangs just as her grandfather Albert Namatjira did many years before. 
Her son Kevin McCormick is skilled at making artefacts such as boomerangs, woomeras, spears, nulla-nullas and shields.
Discover other artists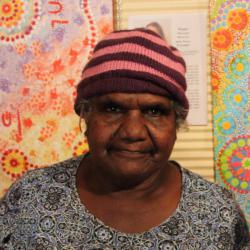 Betty was born at Hermannsburg (Ntaria) in 1949. Her father came from Haasts Bluff, north west of Hermannsburg. Her mother was Martha Namatjira, one of Albert Namatjira's daughters.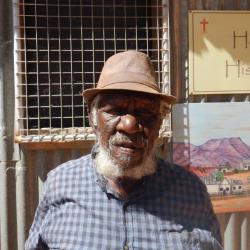 Marcus was born in 1947 at Underanna an outstation west of Hermannsburg.